now arriving at... honeymoon!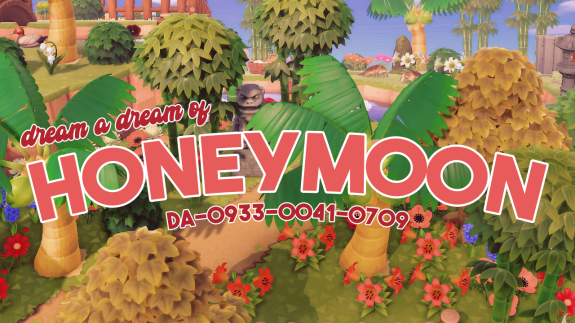 once an island frequented by all sorts of seafarers, honeymoon was no stranger to pirates. and yet - despite its notoriety - the island was suddenly abandoned under circumstances unbeknownst to most. after years and years of inactivity, it fell into disrepair and faded away… until, against all odds, a small town was sculpted out of its lonely sands. honeymoon is now a cheery place with a strong connection to the sea. its residents seek to be in tune with nature and safeguard the treasure that, after all this time, remains on its shores.
as someone who lives in the caribbean, i was beyond thrilled when i found out that new horizons featured towns on islands. i immediately knew that i wanted a port town with a lot of nautical and tropical themes so that i could pay homage to my own culture. honeymoon has a very natural vibe: i wanted to give it a sense of harmony between the natural world and those who live upon it. it brings a lot of comfort to me and definitely feels like home!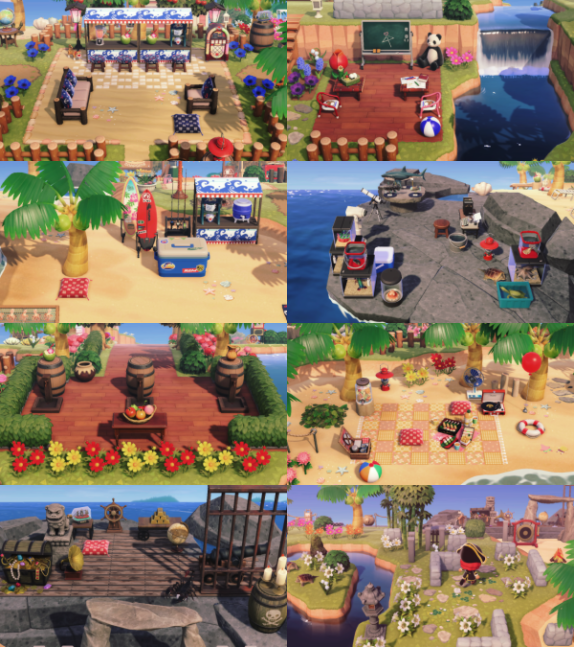 feel free to check out my animal crossing tumblr for more pictures of honeymoon!
to see the posts in chronological order, click here!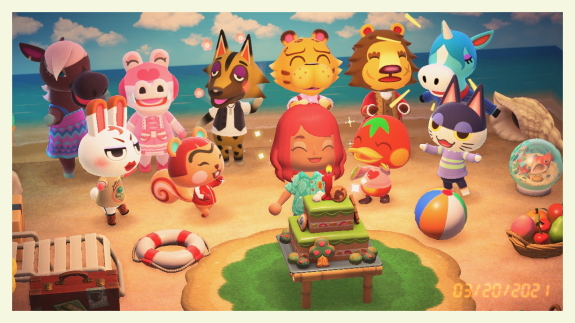 name: elvis
birthday: july 23
relationships: julian (husband), ketchup (best friend), hazel (best friend)

name: ketchup
birthday: july 27
relationships: elvis (best friend), julian (best friend), gayle (best friend)

name: julian
birthday: march 15
relationships: elvis (husband), ketchup (best friend), tiffany (best friend), reneigh (childhood friend)

name: gayle
birthday: may 17
relationships: hazel (best friend), punchy (best friend), ketchup (best friend)

name: reneigh
birthday: june 4
relationships: tiffany (girlfriend), kyle (best friend), julian (childhood friend)

name: punchy
birthday: april 11
relationships: hazel (best friend), gayle (best friend), leonardo (best friend)

name: kyle
birthday: december 6
relationships: leonardo (bandmate, boyfriend), reneigh (best friend)

name: leonardo
birthday: may 15
relationships: kyle (bandmate, boyfriend), punchy (best friend), tiffany (best friend)

name: hazel
birthday: august 30
relationships: punchy (best friend), gayle (best friend), elvis (best friend)

name: tiffany
birthday: january 9
relationships: reneigh (girlfriend), leonardo (best friend), julian (best friend)
my thoughts on new horizons!
animal crossing: new horizons is a 2020 social simulation game developed and published by nintendo for the nintendo switch; it is the fifth main entry in the animal crossing series. in new horizons, the player controls a character who moves to a deserted island after purchasing a getaway package from tom nook, accomplishes assigned tasks, and develops the island as they choose. they can gather and craft items, customize the island, and develop it into a community of anthropomorphic animals.
— the animal crossing: new horizons wikipedia entry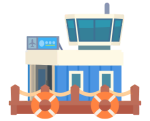 animal crossing: new horizons was my most anticipated game for the nintendo switch. and as a huge fan of a lot of nintendo titles, this is definitely saying something!!

after a few years of new leaf, i spent so many nintendo directs waiting for a crumb of news about the next mainline animal crossing game. i left so many directs feeling so disappointed... so defeated... but i held on to hope. after all, we got no mainline addition with the wii u, so we would have to get it on the switch, right? and then... on september 13th, 2018... it finally happened. right as we thought it was the bait of all time - just isabelle being announced for smash; another non-mainline update - animal crossing for the nintendo switch was finally, finally announced. i'll never forget it - i was giddy with happiness! i don't think a game announcement has ever impacted me as much as new horizons' did, to be honest. i walked around my house in circles and told everyone all about it!!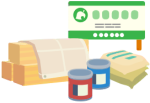 the first trailer ended up dropping a good while later - during e3 season in 2019. i couldn't tell you how many times i watched it. i even wrote up a trailer analysis for it and everything. now, you may be asking... "did it live up to the hype, jamie?" and my answer to that is... a resounding yes! absolutely! it was everything i wanted it to be.

the level of customization that new horizons offered was a breath of fresh air into the series; the next logical step forward from new leaf. i mean, before new horizons, there was only one (1) default skin tone in the whole game - despite different tones being programmed into each previous installment a la the (really wonky!!!) tanning system! that was a total headache for someone who doesn't have pale skin, let me tell you... but, anyway! being able to decorate your town in such a seamless manner and truly make it your own through terraforming was an absolutely fantastic addition, too. while the system can definitely be streamlined further (moving houses around is so clunky!), they definitely improved decorating by leaps and bounds and i'm sure the terraforming aspect of the series will get better and better over time. also... can i just say... this is 100% my own islander bias speaking, but it being based on island life was the cherry on top of everything!

i love new horizons so much and truly cherish the island that i was able to create. honeymoon is like my little virtual home, and i hope that you've enjoyed reading about it here!